Pismo Beach under Mexican Rule.
Mexico broke up the Spanish mission holdings and gave land to its citizens.
There were 35 Mexican Land Grants in San Luis Obispo County.
Present day Pismo Beach is in what was a grant to Jose Ortega in 1840,
consisting originally of almost 9,000 acres.
---
A closer view: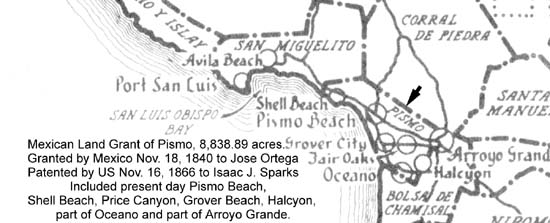 The Pismo land grant went as far south as Oceano and Halcyon.
---
John Michael Price acquired part of the Pismo land grant and part of the San Miguelito land grant. He formed Rancho Pismo, consisting of about 7,000 acres.
Back